2F Museum Facilities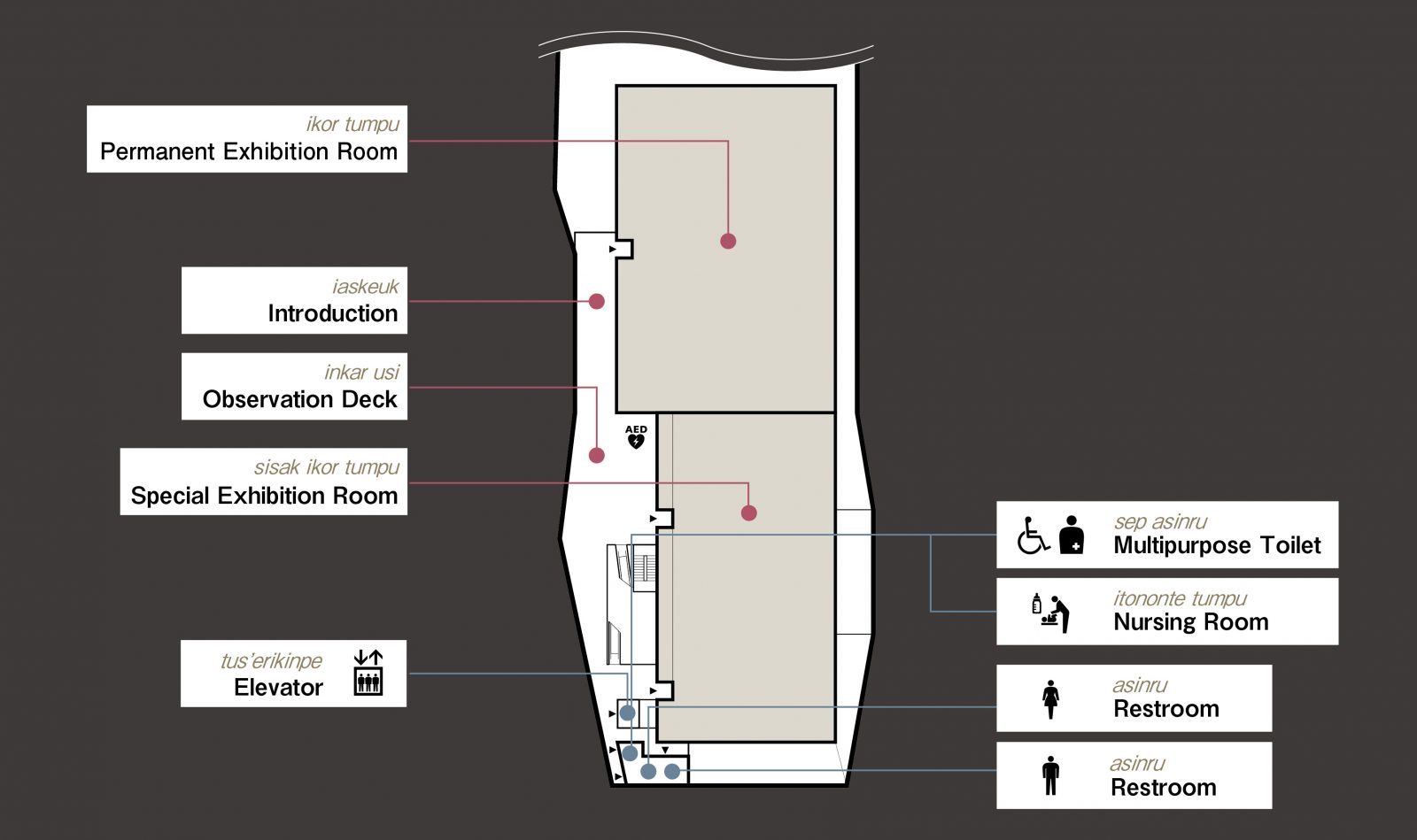 sisak ikor tumpu
Special Exhibition Room (2F)
Past Exhibition
National Ainu Museum 4th Seasonal Exhibition "akanto un kotan REGIONS The Ainu Culture of Lake Akan"
Release Date: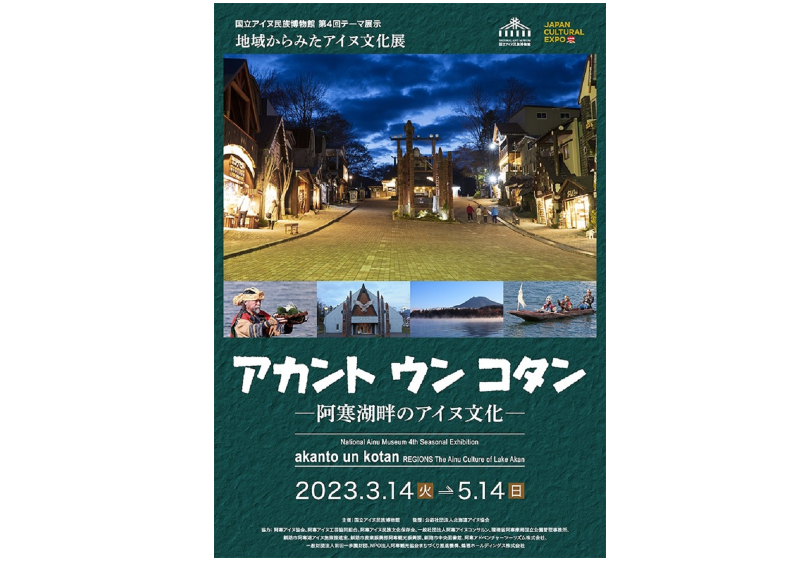 About this Exhibition
The Ainu culture of Lake Akan is built not only upon passing on traditions correctly, but also working together to create new things with people who stand side by side in cooperation regardless of ethnic differences. This exhibition introduces the Ainu culture that has flourished on the shores of Lake Akan.
At Lake Akan, Ainu traditions have been passed down and developed by people engaged in the tourism industry. As Lake Akan became a tourist destination, creators of craft implements and souvenirs gathered together from all over Hokkaido and honed their skills through a spirit of friendly rivalry. Performing arts and rituals have also been passed down through tourism creating new culture. Despite the number of native speakers declining, the Ainu language is still a familiar language here and used in store and facility names. What we introduce in this exhibition is just a small part of the Ainu culture of Lake Akan. We sincerely hope that this exhibition will encourage visitors to travel to "akanto un kotan", Lake Akan where you can experience first hand the Ainu culture that has been handed down to the present and developed in its own unique way.
This is the second exhibition in the National Ainu Museum's series of exhibitions: REGIONS, which introduce the uniqueness and diversity of Ainu culture from a regional perspective.
Overview

【Dates】
March 14, 2023 (Tue) ~ May 14, 2023 (Sun)
※The exhibition dates are subject to change due to COVID-19

【Closed on】
Mondays (when Monday is a holiday, the museum will close on the next business day)

【Venue】
National Ainu Museum, Special Exhibition Room

【Organized by】
National Ainu Museum

【Cooperation】
Ainu Association of Hokkaido

【Collaboration】
Akan Ainu Association, Akan Ainu Crafts Cooperative, Akan Ainu Culture Preservation Society, Akan Ainu Consuln, Ministry of the Environment Akan-Mashu National Park Office, Kushiro City Lake Akan Ainu Policy Promotion Office, Kushiro City Akan Tourism Promotion Division, Kushiro City Library, Akan Adventure Tourism Corp., Maeda Ippoen Foundation, Akanko Onsen Tourist Information Center, Tsuruga Group.
Registration and Admission
Admission to the Seasonal Exhibition is included in the UPOPOY entrance fee.
※ Admission to the Permanent Exhibition Room of National Ainu Museum is also included in the UPOPOY entrance fee.
We recommend specifying the date and time of your visit with our online advance reservation system: 【Upopoy website】
Only one reservation is needed for admission to the Permanent Exhibition and the Seasonal Exhibition.
Re-entry to the museum is possible on the same day as your visit. However, you may have to wait depending on how crowded the exhibition rooms are.
Last entry to the museum is 30 minutes prior to closing.
Coronavirus countermeasures: The museum is taking measures to prevent the spread of coronavirus based on the guidelines of the Japan Association of Museums. These include wearing masks at all times and hand disinfection.
Events
Performances of traditional performing arts passed down in Akan, and talk events by contemporary cultural inheritors, will also take place during the exhibition period. Details regarding dates and times will be posted here soon.
●Ainu dance performance in National Ainu Park.
[Performed by] Akan Ainu Culture Preservation Society
[Date & Time] March 18 (Sat), 2023 12:30-13:00, 14:30-15:00
       March 19 (Sun), 2023 10:30-11:00, 12:30-13:00
 * Click here (Upopoy website) for more information.
Other related events, such as performances of traditional performing arts passed down in Akan, and talk events by contemporary cultural inheritors, will also take place during the exhibition period. Details regarding dates and times will be posted here soon.
Contents
Chapter 1 History
Chapter 2 Craft
Chapter 3 Performing Arts
Chapter 4 Walking forward together
Chapter 5 Language
Chapter 6 Tourism
Chapter 1 History
In his Kusuri Diary, Matsuura Takeshirō, who explored Hokkaido and Sakhalin in the mid-19th century, recorded that there were several Ainu houses along the banks of the Shitakara and Akan rivers. When agriculture was encouraged by the Meiji government, and Wajin (ethnic Japanese) migration to Akan increased, the lives of Ainu people living on the shores of Lake Akan dramatically changed. The first ryokan inn on the lake's shores was opened in 1908. Lake Akan was designated a national park in 1934, and during the postwar tourism boom in Hokkaido, the number of Ainu migrating from all over Hokkaido to the region also increased, forming the current Akanko Ainu Kotan. The Ainu culture from Lake Akan introduced in this exhibition has been handed down in this unique fashion that cannot be seen in other regions.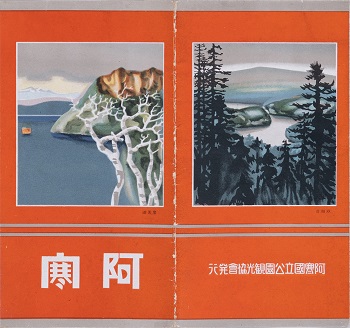 Chapter 2 Craft
On the shores of Lake Akan there are craftspeople whose creations come all sizes, including traditional Ainu tools such as makiri (knives) and ita (trays), dugout canoes, carved wooden bears, and kamuyni (sculpture similar to totem poles). People from all over Japan gathered around Lake Akan and furthered their skills through friendly rivalry. This culture has led to the continued creation of works today. Here we introduce the incredible techniques and works of the region alongside their creators.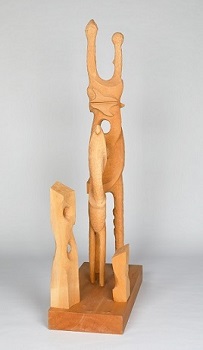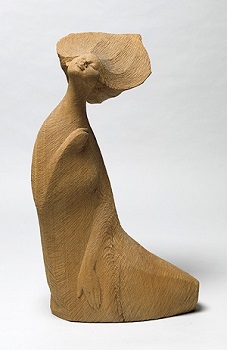 Chapter 3 Performing Arts
At Lake Akan, performing arts, such as the song and dance that form the cultural inheritance of the Akan Ainu Culture Preservation Society, are presented as stage performances for spectators to observe. In order to convey Ainu culture to people through traditional stories, these tales have been acted as "yukar theater," and have also become a puppet show for children to enjoy and learn. A performance called Akan Yukar "Lost Kamuy", that incorporates current technology, has also been introduced. Here we present the diverse performing arts of Lake Akan, including individual initiatives.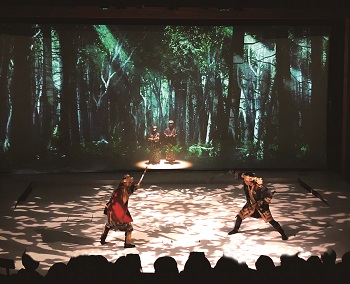 Chapter 4 Walking forward together
There are many non-Ainu people at Akanko Ainu Kotan who live in close proximity to Ainu culture and cooperate with Ainu people, overcoming ethnic differences. Here we introduce two organizations that have close connections with Akanko Ainu Kotan: the Maeda Ippoen Foundation, and the Pewre Utari Society. We will take a look back at how Ainu and non-Ainu people have come together with Lake Akan as a base.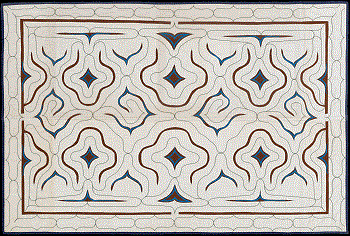 Chapter 5 Language
Here we introduce the work of Yamamoto Tasuke (1904-1993), who was passionately active in and wrote many books about the Ainu language and culture, including Aynu Mosiri. We also introduce the Ainu language used in the names of shops and facilities at Akanko Ainu Kotan, and efforts to learn about Ainu culture through the Ainu language and Ainu traditional tales.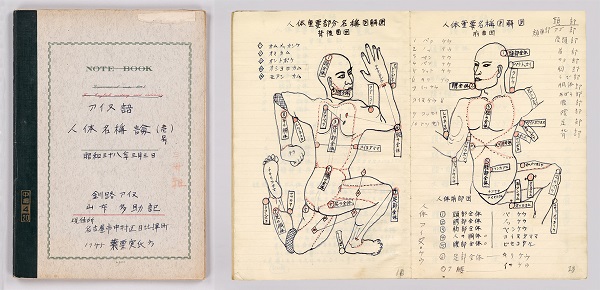 Chapter 6 Tourism
Lake Akan is an area rich in natural beauty where mountains such as Mount Oakan and Mount Meakan adjoin large open lakes. The Ainu people and other people who have moved here, and who have inherited the traditional culture of the region, make their livings producing and selling folk items, managing restaurants, and performing dances as the area has become a large center for sightseeing. Akan's many attractions include festivals that follow traditional Ainu rituals, townscapes in tune with Ainu culture, and an attitude of active cooperation between the public and private sectors.